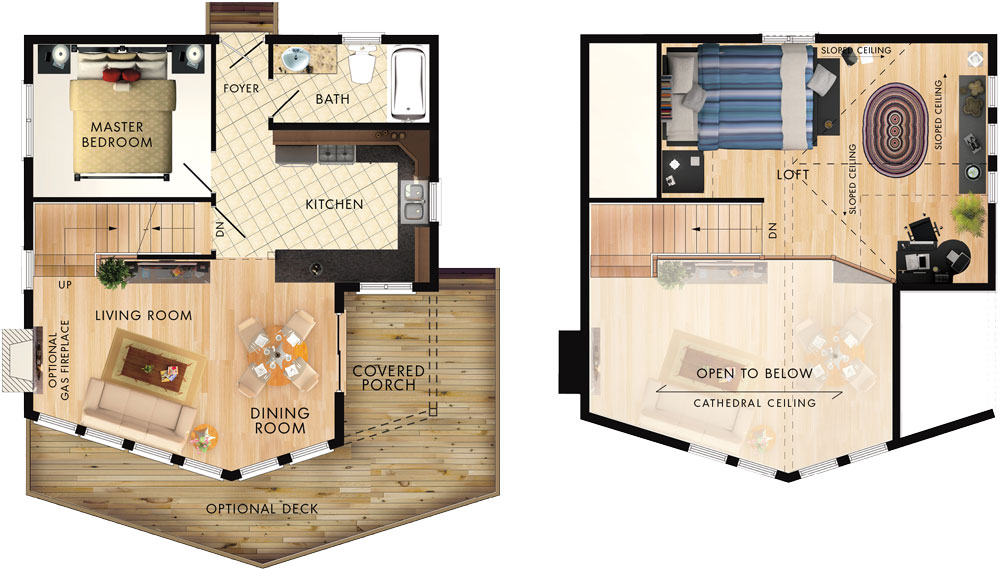 Specs

Living Room: 11′-0″ x 13′-5″
Kitchen: 13′-6″ x 9′-7″
Dining Room: 8′-1″ x 12′-0″
Master Bedroom: 11′-4″ x 9′-9″
Loft: 20′-0″ x 15′-1″ (9′-9″)



Living Room Virtual Tour
Inviting living room facing two story, prow front windows opening to an optional deck, this space features an optional gas fireplace and a great view.
Kitchen Virtual Tour
Designed for functionality, this u-shaped kitchen has plenty of counter space and has an open concept design, making for effortless entertaining.
Virtual Design Center/Exterior Tour
The Beauport I is a picture-perfect multi-story cottage. It might only be 907 square feet, but it has many features to offer. One of the first things you notice from the exterior of this home is the two-story prow front that is full of windows and a dramatic roofline that gives the Beauport I lots of personality. You may wish to put a deck on that also mimics the prow shape. Inside, the main floor offers a grand two-story living space that extends up to the open loft bedroom upstairs. This bedroom is great for guests or maybe as a secondary living space. The master bedroom is kept on the main floor with easy access to the bathroom and U-shaped kitchen.
5
Reviews
7
reviews for this content.
Share your Beaver Homes and Cottages Story with us!
×
Please select one or more photos to proceed!
UPLOAD PHOTOS FROM YOUR FACEBOOK
UPLOAD PHOTOS FROM YOUR INSTAGRAM
UPLOAD PHOTOS FROM YOUR COMPUTER