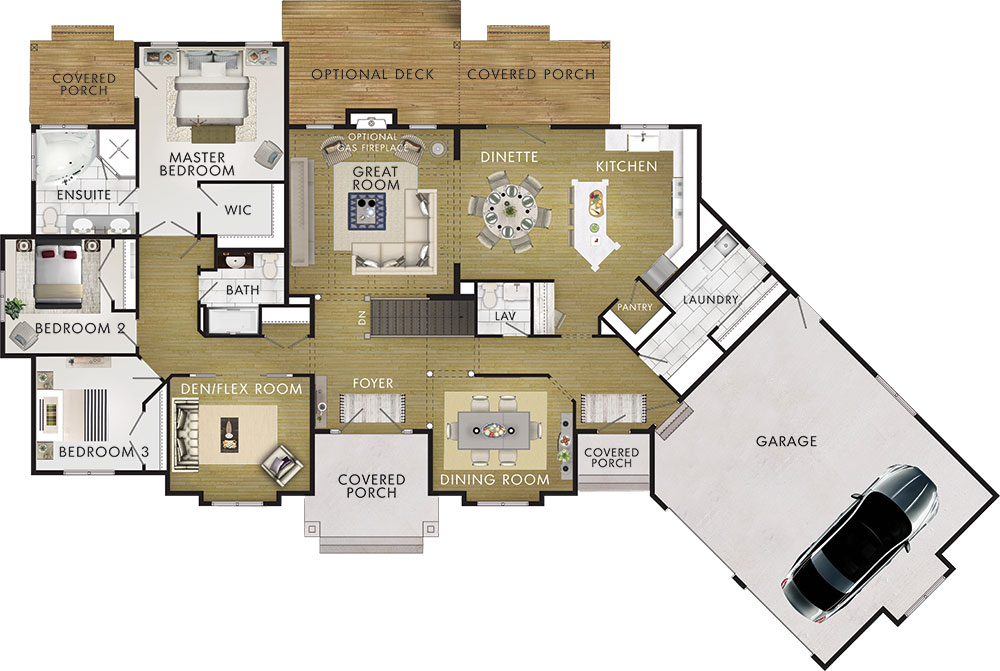 Specs
Great Room: 16′-0″ x 16′-0″
Kitchen: 12′-0″ x 14′-6″
Dinnette: 11′-0″ x 14′-6″
Dining Room: 13′-7″ x 11′-0″
Den/Flex Room: 13′-7″ x 11′-0″
Garage: 27′-9″ x 23′-1″
Master Bedroom: 14′-1″ x 13′-0″
Bedroom 2: 10′-4″ x 11′-1″
Bedroom 3: 10′-4″ x 11′-0″
This house is an executive style bungalow armed with a grand, arched entry. To the side are an angled double car garage and a separate, covered family entrance. The family entrance provides convenient access to the laundry room, keeping coats and shoes out of the main foyer. Upon entering the main foyer, you are greeted with views of nearly the entire house. There are many different directions to take. To the left are all of the bedrooms as well as a bonus den. The master bedroom has it's own hidden porch, perfect for enjoying the nice weather in private. On the opposite side of the house is a formal dining room and further down the hallway is the kitchen. The Bellamere's kitchen has a walk-in pantry for lots of food storage and an attached dinette for casual family meals. In the very center of this house, making a grand impression is of course the great room.
5
Reviews
15
reviews for this content.
Share your Beaver Homes and Cottages Story with us!
×
Please select one or more photos to proceed!
UPLOAD PHOTOS FROM YOUR FACEBOOK
UPLOAD PHOTOS FROM YOUR INSTAGRAM
UPLOAD PHOTOS FROM YOUR COMPUTER