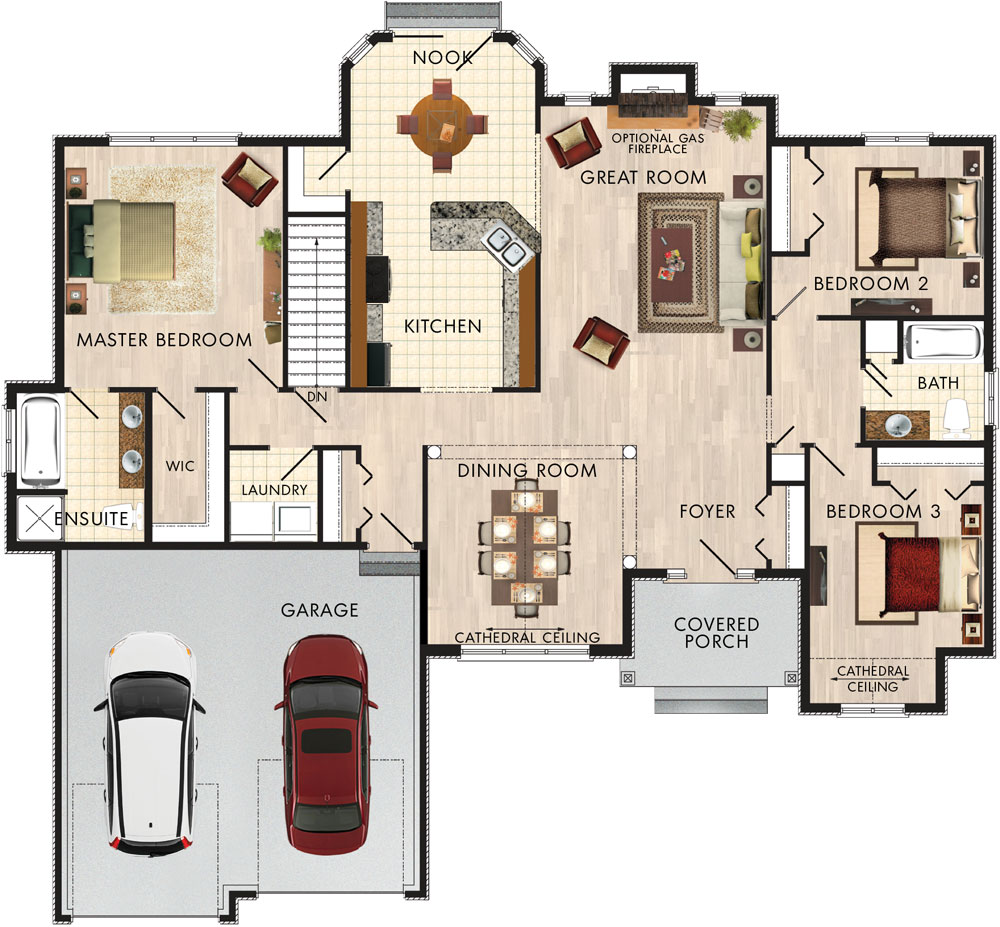 Specs
Great Room: 14′-0″ x 17′-0″
Kitchen: 11′-6″ x 11′-6″
Nook: 11′-6″ x 9′-8″
Dining Room: 12′-1″ x 11′-7″
Garage: 22′-3″ x 21′-0″ (22′-6″)
Master Bedroom: 13′-7″ x 14′-6″
Bedroom 2: 10′-0″ x 10′-0″ (13′-6″)
Bedroom 3: 10′-10″ (13′-3″) x 10′-0″

Kitchen Virtual Tour
Open concept kitchen with a unique peninsula for additional counter space, this brightly lit room is the perfect place for hosting.
Great Room Virtual Tour
Uniquely designed with a cove ceiling, open concept layout and option for a gas fireplace, this great room is both elegant and modern.
Virtual Design Center/Exterior Tour
The Foxstone is a spacious executive style home with three bedrooms, which make it a ideal house for a growing family. It boasts impressive curb appeal with tall arched windows and a two-car garage. Inside to the left is a formal dining room with columns and a high vaulted ceiling. This is the perfect space for special holiday dinners. The kitchen includes an angled peninsula with seating, an eating nook and a walk-in pantry providing sufficient storage space. In addition to the walk-in pantry, there are also two linen closets, two entry closets and a large walk-in closet in the master bedroom.
5
Reviews
7
reviews for this content.
Share your Beaver Homes and Cottages Story with us!
×
Please select one or more photos to proceed!
UPLOAD PHOTOS FROM YOUR FACEBOOK
UPLOAD PHOTOS FROM YOUR INSTAGRAM
UPLOAD PHOTOS FROM YOUR COMPUTER