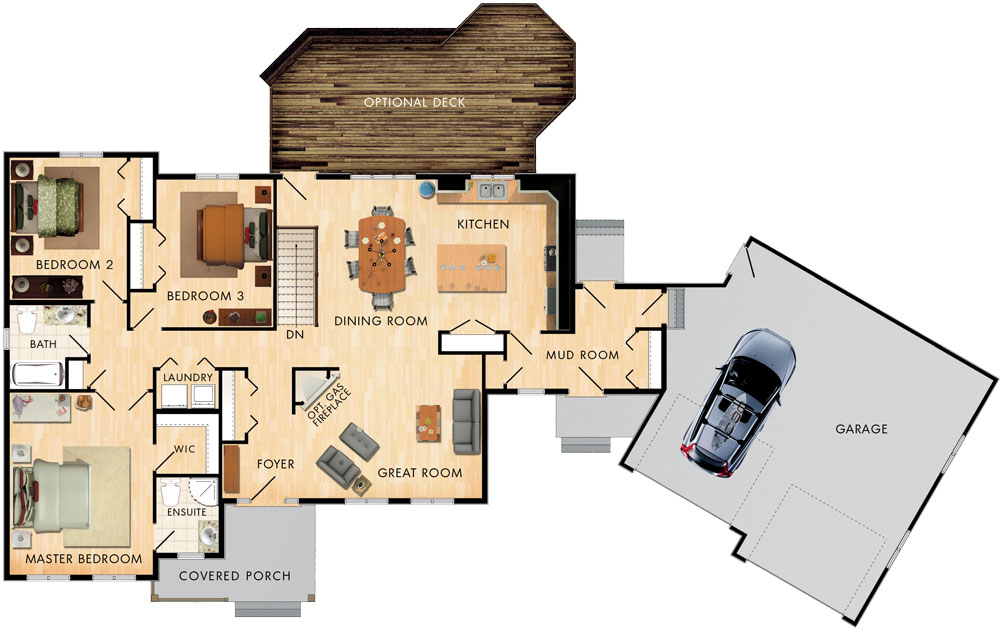 Specs
Great Room: 17′-0″ x 13′-0″
Kitchen: 12′-0″ x 13′-9″
Dining Room: 11′-2″ x 13′-9″
Garage: 25′-5″ x 23′-5″
Master Bedroom: 13′-1″ x 16′-8″
Bedroom 2: 10′-8″ x 13′-0″
Bedroom 3: 10′-8″ x 13′-6″

Master Bedroom Virtual Tour
Lavish master bedroom with tall windows providing natural light and featuring an ensuite and large walk in closet.
Kitchen Virtual Tour
Brightly lit and spacious, this is truly a dream gourmet kitchen with an l-shape design and large centre island for extra seating space.
Great Room Virtual Tour
Large and naturally lit, this open concept great room provides a perfect place to relax with an optional gas fireplace.
Virtual Design Center/Exterior Tour
The Corner Book is a sprawling bungalow with 1720 square feet of open concept design. Graced with two front entrances and an angled garage, this stunning home has a three bedrooms complete with a walk in closet and ensuite attached to the master bedroom. Completed with an optional deck, this design is perfect for spacious entertaining.
5
Reviews
5
reviews for this content.
Share your Beaver Homes and Cottages Story with us!
×
Please select one or more photos to proceed!
UPLOAD PHOTOS FROM YOUR FACEBOOK
UPLOAD PHOTOS FROM YOUR INSTAGRAM
UPLOAD PHOTOS FROM YOUR COMPUTER