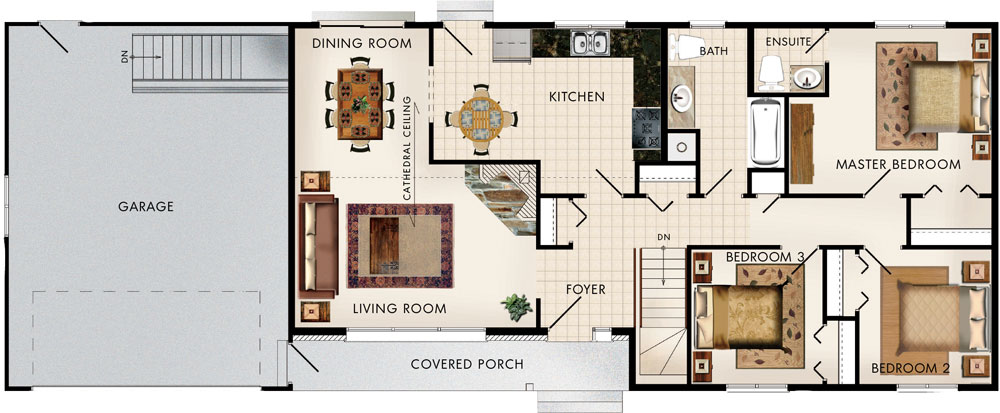 Specs
Living Room: 17′-0″ x 11′-6″
Kitchen: 16′-0″ x 9′-3″ (11′-8″)
Dining Room: 9′-5″ x 9′-7″
Garage: 19′-8″ x 20′-8″ (25′-5″)
Master Bedroom: 14′-3″ x 11′-8″
Bedroom 2: 9′-4″ x 9′-9″
Bedroom 3: 9′-3″ x 9′-9″


The Cypress Hill II is a stylish starter home designed for peaceful living. This ranch style bungalow has an attractive exterior with a gable-in-gable roof detail, lots of large windows and a covered front porch. The attractive curb appeal is only the beginning. Inside, the foyer, living room and kitchen are all large, airy spaces accentuated with cathedral ceilings. The dining area and eating nook both provide access to the backyard, which is especially nice to have when entertaining in the summer. The master bedroom has a convenient two-piece ensuite and a fair sized closet. Another fabulous design feature is the double access to the basement through the garage and main hallway.
5
Reviews
5
reviews for this content.
Share your Beaver Homes and Cottages Story with us!
×
Please select one or more photos to proceed!
UPLOAD PHOTOS FROM YOUR FACEBOOK
UPLOAD PHOTOS FROM YOUR INSTAGRAM
UPLOAD PHOTOS FROM YOUR COMPUTER