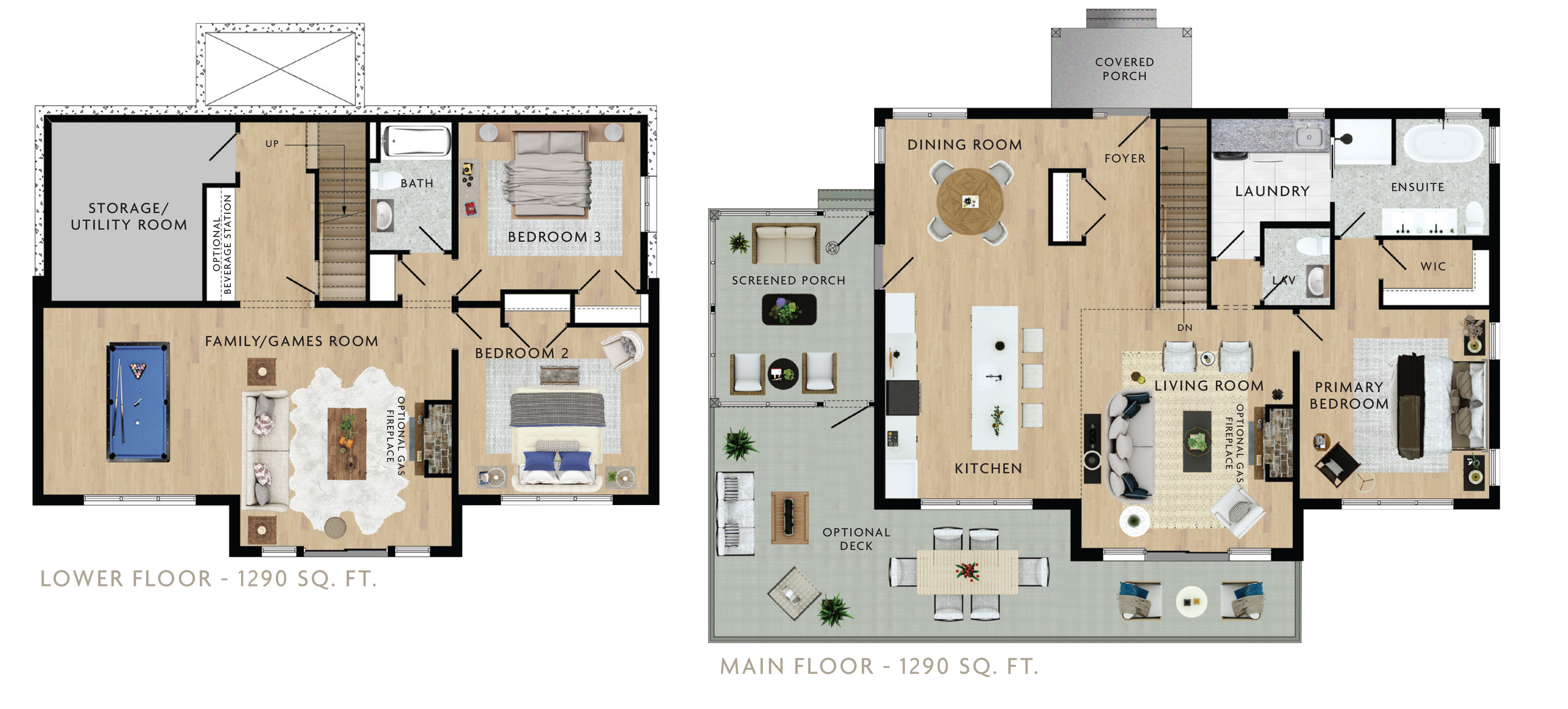 Specs
Foyer: 5′-0″ x 9′-6″
Dining Room: 11′-8″ x 12′-6″
Kitchen: 14′-0″ x 14′-6″
Living Room: 15′-1″ x 17′-0″
Primary Bedroom: 13′-6″ x 13′-6″
Ensuite: 11′-0″ x 8′-4″
Bedroom 2: 12′-11″ x 11′-11″
Bedroom 3: 12′-11″ x 11′-11″
Family/Games Room: 28′-6″ x 16′-11″ (13′-3″)
Storage/Utility Room:13′-1″ x 12′-8″

Additional Dimensions:
- Main floor: 1290 sq. ft.
- Lower floor: 1290 sq. ft.
- Covered Porch: 60 sq. ft.
- Optional Deck: 410 sq. ft.
- Screened Porch: 166 sq. ft.

Make the Minden, your home away from home. The expansive windows and towering ceilings will give the impression that this cottage or year-round residence is much larger than it is. However, the functional fluid floorplan provides for practical living and entertaining in 1290 sq. ft. of main floor living space. Enjoy the outdoors from the screened-in porch or large deck overlooking the lake or property. This home is perfect for a slopping lot, with its immaculate bungalow design, complete with walk out basement. Enhance your cottage feels by continuing your entertaining space even further. From your beautifully light-filled walkout basement, walk right outside embracing nature to the fullest. Feel right at home, in the Minden.
5
Reviews
reviews for this content.
Share your Beaver Homes and Cottages Story with us!
×
Please select one or more photos to proceed!
UPLOAD PHOTOS FROM YOUR FACEBOOK
UPLOAD PHOTOS FROM YOUR INSTAGRAM
UPLOAD PHOTOS FROM YOUR COMPUTER