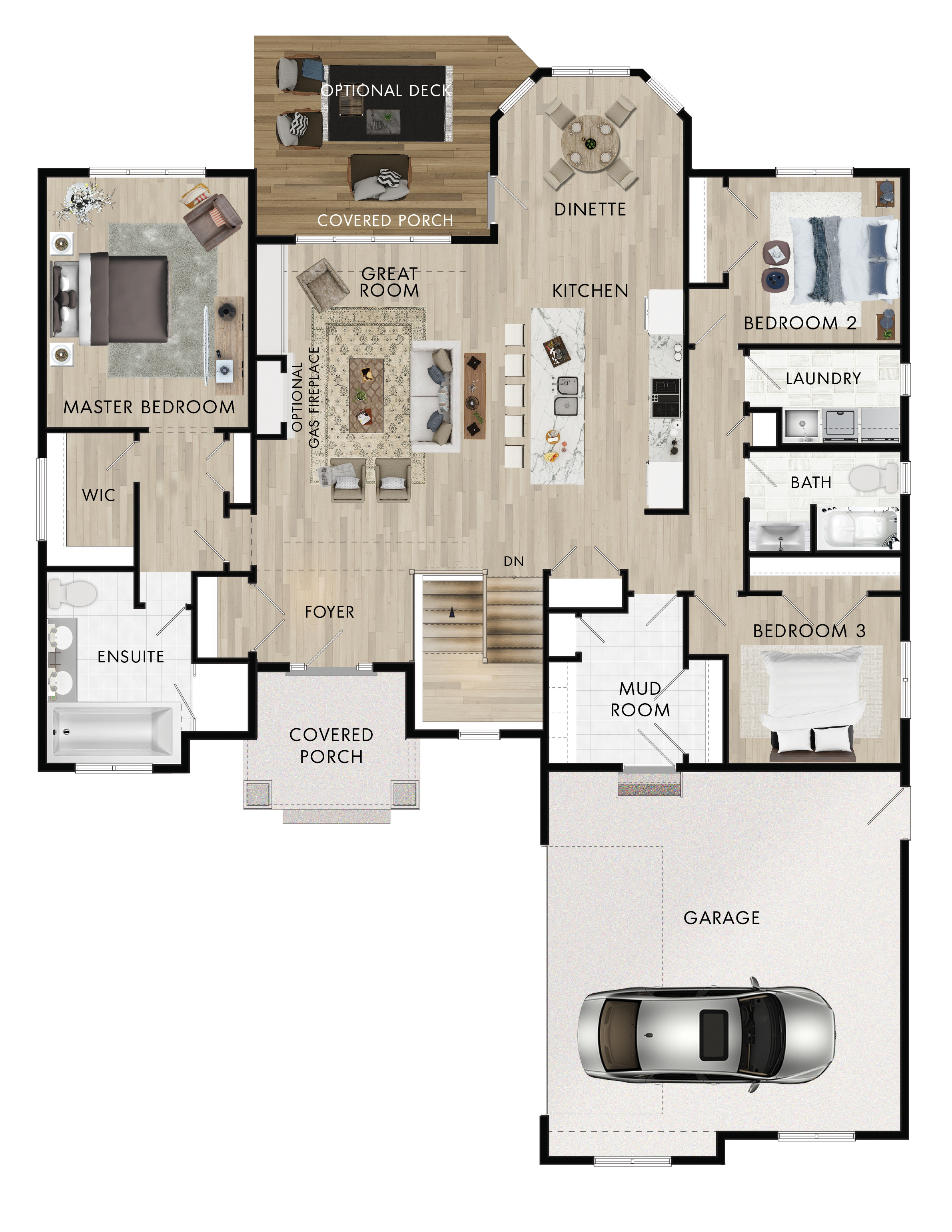 Specs
Great Room: 15′-0″ x 16′-0″
Kitchen: 10′-6″ x 13′-0″
Dinette: 11′-1″ x 12′-9″
Garage: 21′-1″ x 21′-6″
Mudroom: 6′-1″ (8′-1″) x 9′-0″
Master Bedroom: 12′-1″ x 15′-0″
Bedroom 2: 10′-4″ x 10′-0″
Bedroom 3: 10′-4″ x 10′-0″
The Montrose is a unique, yet practical bungalow with remarkable curb appeal. This bungalow is distinguished by its open concept floor plan, multiple gable brackets and the deceiving perpendicular garage. The perpendicular garage adds a unique design element to this bungalow, making it one of a kind in your neighborhood. Complete with an open concept great room, kitchen and dinette makes entertaining family and friends easy. Walk out to your breathtaking covered porch, right off the dinette. From there, two of the bedrooms are located along the right side of the house, with the notable master suite taking up the entire left side of the house. The Montrose is a unique combination of practical and exclusive design elements, making this model a true dream home.
5
Reviews
9
reviews for this content.
Share your Beaver Homes and Cottages Story with us!
×
Please select one or more photos to proceed!
UPLOAD PHOTOS FROM YOUR FACEBOOK
UPLOAD PHOTOS FROM YOUR INSTAGRAM
UPLOAD PHOTOS FROM YOUR COMPUTER