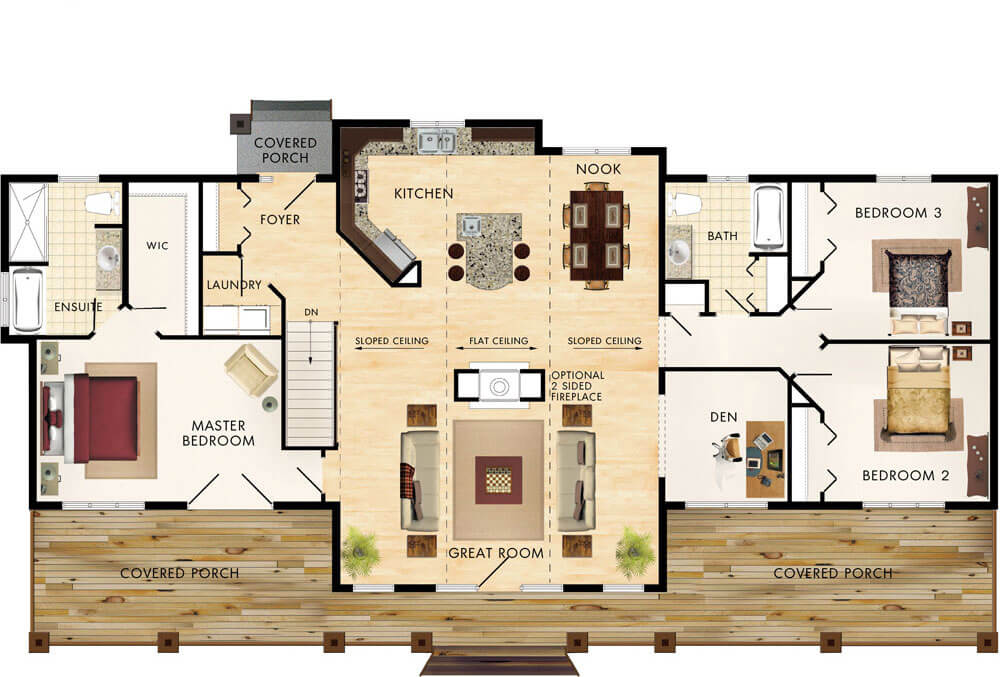 Specs
Great Room: 23′-1″ x 15′-9″
Kitchen: 14′-0″ x 12′-0″
Nook: 10′-0″ x 12′-0″
Den: 9′-0″ x 9′-5″
Primary Bedroom: 17′-9″ x 11′-8″
Bedroom 2: 12′-0″ x 11′-4″
Bedroom 3: 12′-0″ x 11′-4″


A unique feature of the Seguin is its versatility of showing either side as the front of the house depending on your property's features and views. From one side the exterior presents a proportioned approach, while the other is an asymmetrical design that creates remarkable curb appeal. From the covered porch that extends the entire width of the house, garden doors lead to the central great room. Inside, the great room features a cathedral ceiling that extends into the kitchen and eating nook. The kitchen has a very distinctive shape with an angled wall and island. A double sided optional fireplace is a great idea if you want a creative way to keep the kitchen and great room separated. Another special feature found in this model is the master bedroom. It is secluded in its own wing with double doors to the covered porch. There is even an area for a reading nook and a four-piece ensuite.
5
Reviews
13
reviews for this content.
Share your Beaver Homes and Cottages Story with us!
×
Please select one or more photos to proceed!
UPLOAD PHOTOS FROM YOUR FACEBOOK
UPLOAD PHOTOS FROM YOUR INSTAGRAM
UPLOAD PHOTOS FROM YOUR COMPUTER