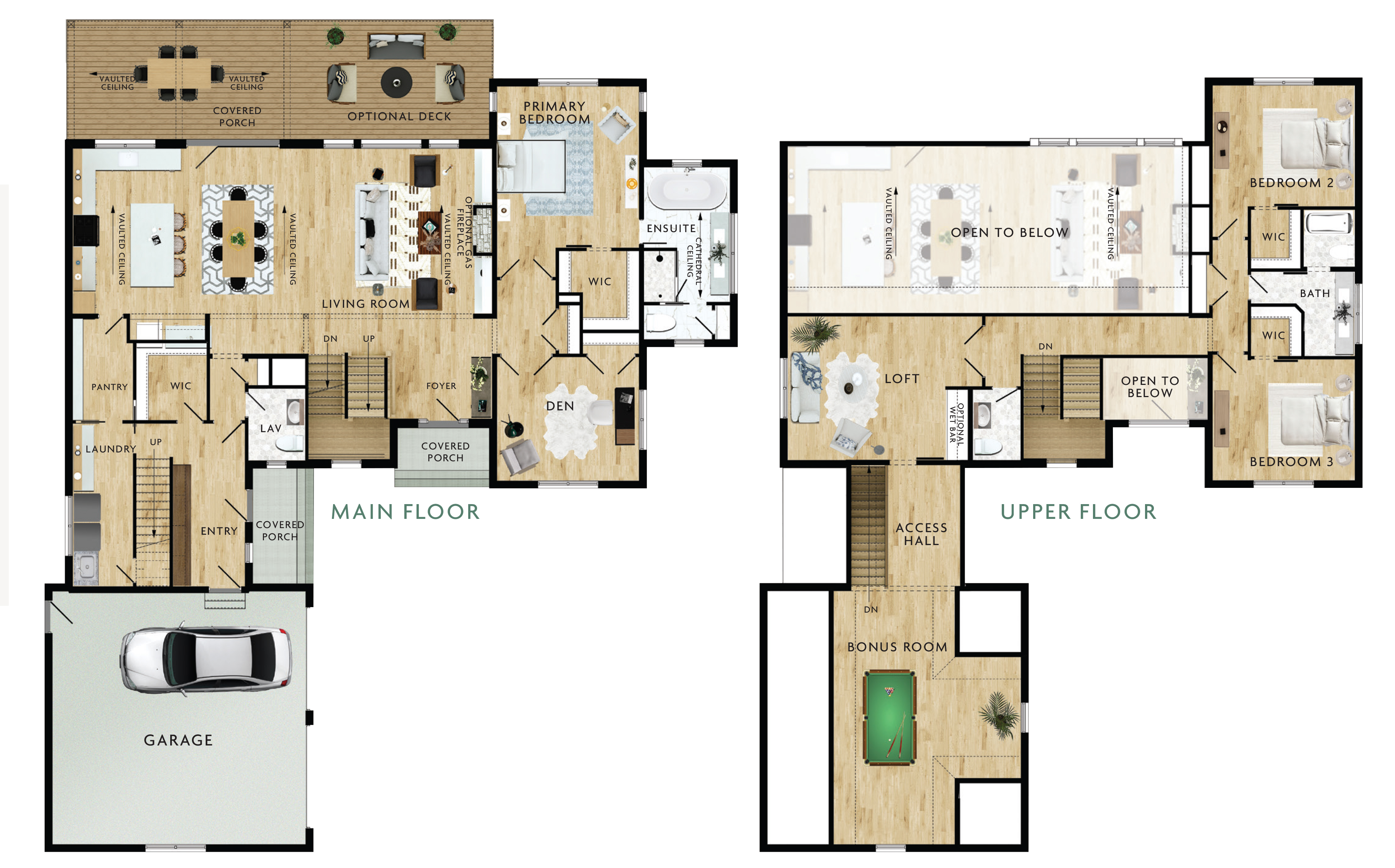 Specs
Garage: 25′-1″ x 25′-1″
Mud room: 7′-2″ x 16′-2″
Foyer: 10′-4″ x 6′-0″
Kitchen/Dining Room: 22′-1″ x 16′-4″
Living Room: 20′-0″ x 16′-4″
Primary bedroom: 14′-1″ x 16′-0″
Ensuite: 8′-6″ x 13′-4″
Den: 14′-1″ x 12′-3″
Bedroom 2: 14′-1″ x 12′-0″
Bedroom 3: 14′-1″ x 12′-0″
Loft: 17′-10″ x 14′-2″
Bonus room: 12′-0″ x 25′-1 PLUS 6′-10″ x 11′-1″

Additional Dimensions:
- Main floor: 2292 sq. ft.
- Upper Floor: 1048 sq. ft.
- Bonus Room & Access Hallway: 512 sq. ft.
- Garage: 682 sq. ft.
- Covered Porches: 348 sq. ft.
- Optional Deck: 240 sq. ft.

Step inside this two-storey modern farmhouse design and prepare to be amazed. With its minimalist yet impressive design, The Virgil is sure to be a showstopper. The sprawling open-concept layout features a generous mudroom / family entry. Upon the well thought out family entry, is a large kitchen complete with walk-through pantry. The open concept staircase with floor-to-ceiling windows, just off the two-storey great room is the prominent feature of this model. The main floor primary bedroom with luxury ensuite is very spacious and has been designed elegantly. The main floor den can be used as a home office, while the additional upper floor loft and bonus room can be a flex space, media room or studio space. All these exquisite home features make the Virgil, one of a kind.
5
Reviews
reviews for this content.
Share your Beaver Homes and Cottages Story with us!
×
Please select one or more photos to proceed!
UPLOAD PHOTOS FROM YOUR FACEBOOK
UPLOAD PHOTOS FROM YOUR INSTAGRAM
UPLOAD PHOTOS FROM YOUR COMPUTER